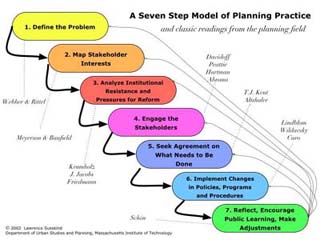 Instructor(s)
Prof. Diane Davis
Prof. Langley Keyes
Prof. Lawrence Susskind
MIT Course Number
11.201
As Taught In
Fall 2002
Level
Graduate
Course Features
Course Description
This class introduces first semester MCP students to the persistent themes and challenges facing planners. The goals of this class are:
to excite students about their chosen profession;
to offer a theoretical framework for thinking about the kinds of interventions that planners are expected to take;
to introduce students to some of the most interesting and challenging theoretical debates in the planning field; and
to press students to think about the best way of using their time to ensure their own personal professional development.
Other OCW Versions
OCW has published multiple versions of this subject.